Home | Previous | Next Lesson
This Lesson Can Be Printed See Instructions Below
Forex 1-2-3 Method
This particular technique has been around for a long time and I first saw it used in the futures market. Since then I have seen traders using it on just about every market and when applied well, can give amazingly accurate entry levels.
| | |
| --- | --- |
| | Lets first start with the basic concept. During the course of any trend, either up or down, the market will form little peaks and valleys. see the chart below: |
The problem is, how do you know when to enter the market and where do you get out. This is where the 1-2-3 method comes in. First let's look at a typical 1-2-3 set up: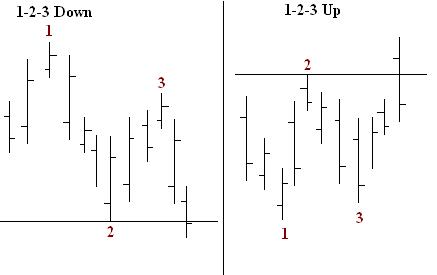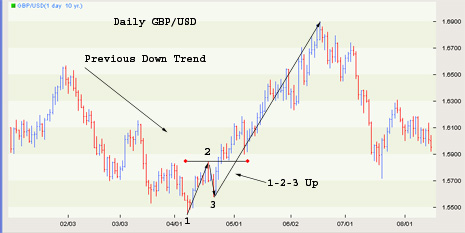 Nice and simple, but it still doesn't tell us if we should take the trade. For this we add an indictor. You could use just about any indictor with this method but my preferred indictor is MACD with the standard settings of 12,26,9. With the indictor added, it now looks like this: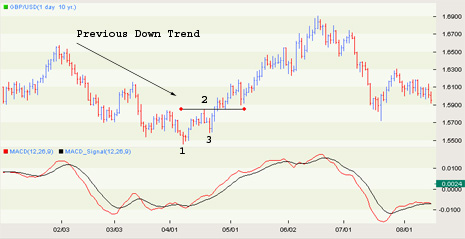 Now here is where it gets interesting. The rules for the trade are as follows:

Uptrend
This works best as a reversal pattern so identify a previous downtrend.
Wait for the MACD to signal a buy and for the 1-2-3 set up to
be in place.
As the market pulls back to point 3, the MACD should remain in
buy mode or just slightly dip into sell.
Place a buy entry order 1 pip above point 2
Place a stop loss order 1 pip below point 3
Measure the distance between point 2 and 3 and project that
forward for your exit.
Point 3, should not be lower than point 1
The reverse is true for short trades. As the market progresses you can trail your stop to 1 pip below the most recent low (Valley in an uptrend). You can also use a break in a trend line as an exit.
Some examples: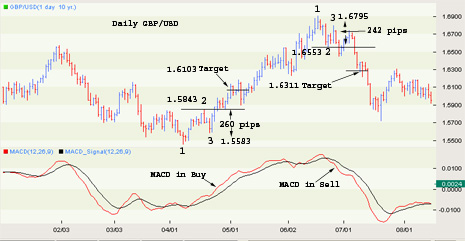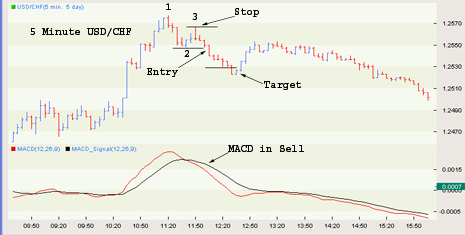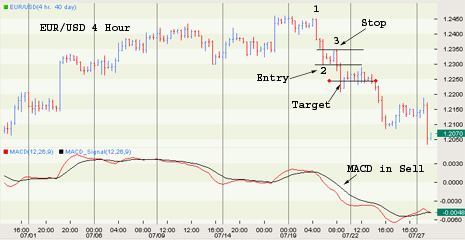 There are a lot of variations on the 1-2-3 setup but the basic concept is always the same. Try experimenting with it on your favorite time frame.
Good Trading
Best Regards
Mark McRae
Information, charts or examples contained in this lesson are for illustration and educational purposes only. It should not be considered as advice or a recommendation to buy or sell any security or financial instrument. We do not and cannot offer investment advice. For further information please read our disclaimer.

To PRINT or save a copy of this lesson in PDF format simply click the PRINT link. This will open the lesson in a PDF format which, you can then PRINT. If you are unfamiliar with PDF or don't have a FREE copy of Arobat Reader see instructions.